The Curious Machine Slots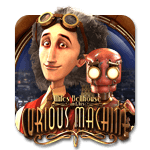 Curious Machine slots was developed by Betsoft software but this one is much more than just a 3D video slot, it is a complete story. The story is about a young Miles Bellhouse, an ingenious, inventor and his robot, Gizmo; together, they work enthusiastically in their warehouse to create the most state-of-the-art machines. The graphics and audio that accompany this slot game are mesmerizing and breathtaking. Curious Machine slots has five reels and 30 pay lines and hosts an assortment of added features that are all based on time travel.
The Vortex Symbol represents the Wild, but uniquely when you get a wild Vortex on the reels but not a win, the Vortex will activate and spins any symbols that it touches, allowing for a new launch of symbols with a new chance to win. The Reel Rewind feature gives you a Second Chance to win from a non winning spin by randomly rewinding and giving you another chance to win. Get 3 or more of the Travel Through Time Symbols scattered anywhere on the reels to trigger the Travel Through Time Bonus.
In the Blast to the Past Curious Machine bonus, you will receive three or more dinosaur symbols scattered anywhere on the reels to trigger the Free Spins feature. You will time travel back to the land of the lost and every time the reels spin you get a random multiplier. Here, you can choose the Double Up feature if you want to, which presents itself in a mini game. You will try to correctly guess which of the robot's hands contains the coin.
Some of the symbols used in Curious Machine slots will include Miles Bellhouse, his robot Gizmo, General Traytor, the time machine, valves, and a scene from the future, a map, the Vortex, dinosaurs and mechanical room symbols. The mechanical room symbols will be used to unlock the special features that are needed to escape the dinosaurs and General Traytor.